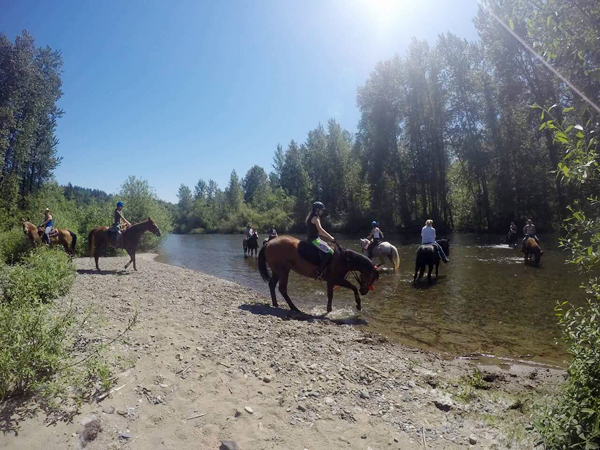 Equitrekking.com - Full Article
January 30, 2018

Equitrekking contributor and author of Alta Mira Horsemanship shares some of her favorite spots to go horseback riding in the Pacific Northwest.
Usually, when I tell people that I moved from sunny San Diego, California to the melancholy vibes of Seattle, Washington, they don an expression of complete shock. "Why would you want to move from such an amazing place as San Diego?," they ask.
Well, I could say there were too many people in Southern California, but Seattle has a lot of people, too. My purpose in coming here was to go to college, but my choice of locale came from a desire for change. I wanted something that still seemed a bit undiscovered and adventure-worthy. The Pacific Northwest came with no disappointment.
Seeing the ecosystem inhale and exhale with every passing season, from the dew of dawn to the contented sigh of the evening, is confirmation that this is the adventurer's home. The drizzle that serves as our common backdrop merely highlights the prism of dazzling pink and purple tulips in the spring, the burnt orange and ashy red of the fall, and the bright, varied green foliage of the summer rainforest.
The Pacific Northwest is known for its countless hiking trails, but us equestrians know that nothing beats exploring to the rhythm of hoofbeats. My favorite trail, O'Grady, is a mere few blocks away from the barn in Enumclaw, WA. To get to the trailhead, you have to pass a perfect view of Mount Rainier. O'Grady has a handful of trails winding down through the forest to a meadow on the edge of the Green River...
Read more here:
https://equitrekking.com/articles/entry/horseback-riding-in-the-pacific-northwest-adventures-from-trees-to-the-sea/?mc_cid=e7fc725761&mc_eid=290b655fe3