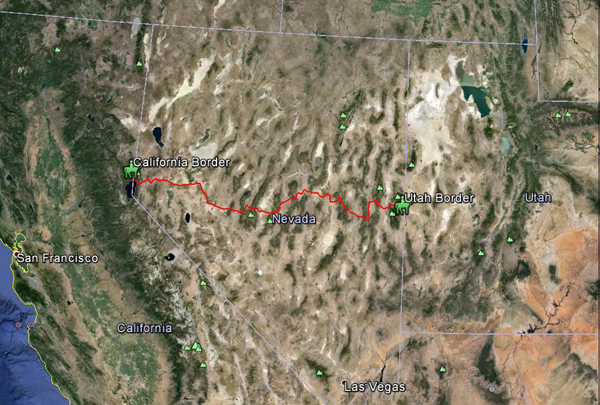 Equitrekking.com - Full Article
August 6, 2017

From wildflower meadows and craggy mountain canyons to crisp blue lakes and deep sand dunes, Samantha Szesciorka and her horse cross the state of Nevada on the ADT Equestrian Trail and describe the experience for Equitrekking's 50 State Trail Riding Project.
by Samantha Szesciorka
Nevada is often presented as one of two extremes: the neon lights of the Las Vegas Strip or a bleak desert wasteland... neither of which sound like ideal horseback riding environments! But, nearly 90% of the state is actually public land, and adventurous riders will find an inexhaustible amount of backcountry trails to explore. One of the newest trails spans the width of the state, exposing riders to the hidden beauty of the Silver State.
The American Discovery Trail is the nation's only coast-to-coast non-motorized trail. Built in 1977 for hikers, bikers, and equestrians, the trail runs 6,800 miles through 15 states, including Nevada. Though it is actively used by runners and cyclists, the Nevada portion of the ADT has become precarious for horseback riders, with overgrown brush and dangerous road crossings. In 2013, a safer, alternate ADT equestrian trail debuted. My formerly-wild mustang Sage and I were the first to cross the entirety of the new route. We headed out in May 2013 and reached the other side of the state in June 2013, having ridden the entire distance solo...
Read more here:
http://www.equitrekking.com/articles/entry/experience-nevadas-diversity-riding-the-american-discovery-trail/