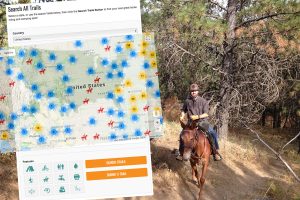 Trailmeister.com - Full Article
July 2 2018
by Robert Eversole
Keeping Your Trails Open
As published in the July, 2018 issue of The Northwest Horse Source
We're blessed. Our nation's public lands are one of the America's greatest achievements. Every year millions of horse owners across the U.S. visit our federal, state and local parks and other open spaces.
And nearly every visit has something in common—trails. Horse owners experience our public lands on trails—whether riding on short paths to scenic overlooks, or taking backcountry wilderness pack trips. Horse trails are such a repetitive theme woven through open lands that they can often be taken for granted. Please don't.
Have you wondered how you can do more for your trails, even when off the trail? Here are three easy ways to help keep the trails you love open to horse use now and into the future...
Read more here:
https://www.trailmeister.com/3-easy-ways-to-keep-horse-trails-open/