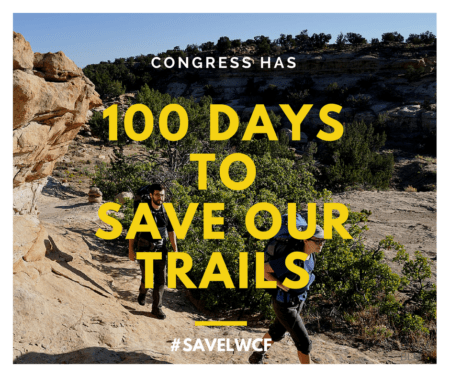 AmericanHiking.org
The Land and Water Conservation Fund (LWCF), one of our most important programs for preserving the outdoors, will expire on September 30 if Congress does not act to permanently ensure it continues by "reauthorizing" it. 1
Before we get into what we can do to get it renewed, let's take a step back to shine a light on the history of the LWCF and all it has accomplished. LWCF funds have expanded and completed hundreds of new trails (including National Scenic and Historic Trails, which are celebrating their 50th Anniversary this year!), built our National Parks, and funded many of your favorite local parks.
Wow, right?! You may be asking yourself, "How do we pay for such a great program?". Here's the great thing, it doesn't cost the taxpayer anything!! The LWCF is funded by fees from offshore energy development with the idea that if the government permits drilling offshore, some of the money raised should go to preserve our most cherished places on land. That's why in 1964 Congress passed the LWCF to safeguard natural areas, water resources and our cultural heritage, and to provide recreation opportunities to all Americans.
Fast forward to today, this crucial program is set to expire on September 30 if Congress doesn't act (the program was last reauthorized in 2015 with overwhelming bipartisan support). So, what is AHS doing to make sure Congress acts? In partnership with a coalition of organizations, AHS is joining with congressional leaders to raise the public attention and build momentum to get this legislation passed.
Marking 100-days before expiration we joined Senators Cantwell, Burr, Gardner, Daines, and Tester at a press conference and rally calling on leaders in Congress to take action! That same day we participated in a fly-in with advocates from across the country who have experienced firsthand the benefits of the LWCF. This included a hotel owner in Colorado whose customers are primarily recreation users on LWCF purchased land and a local trail volunteer working to see the completion of the Ice Age National Scenic Trail in Wisconsin.
AHS amplified these messages and shared the voice of our members and supporters by delivering postcards to congressional offices on behalf of hikers and trail users who wrote to their Member of Congress during National Trails Day®, sending the message to #SaveLWCF and protect trails.
The work here isn't done and you can make a difference by contacting your Member of Congress and telling them to permanently reauthorize the LWCF!
Together we can fight to ensure the LWCF continues to protect our natural resources and provide new places to hike!
For more information, and to TAKE ACTION! click here:
https://americanhiking.org/blog/in-less-than-100-days-a-crucial-trail-funding-program-will-expire/