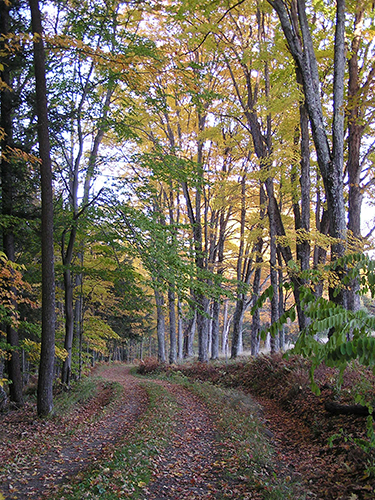 Equitrekking.com - Full Article
January 13, 2015
by Chelle Grald
Did you know you can ride an elite system of bridle trails from the Rockefeller Era in Vermont? Learn about great horse trails near Woodstock, in the Marsh-Billings-Rockefeller National Historical Park and beyond from Chelle Grald of the Green Mountain Horse Association–– part of the Equitrekking 50 State Trail Riding Project.
If Vermont were a gem, it would be an emerald. It is first and foremost green – forests and fields with farms tucked between hills and running with clear streams. It is many-faceted, with covered bridges, clear running streams, endless dirt roads and stone walls. It is sometimes muddy, sometimes rocky, often challenging and never flat. The views are breathtaking.
It sounds like postcard New England, and it truly is. Great trail riding is available in Vermont to just about every backyard horse owner in every corner of the state. Certain areas stand out as destinations because of their concentration of well-developed trails and the general horse-friendliness of the community. The area around Woodstock, Vermont is one such place. Here are two reasons to come Equitrekking in Woodstock.
The Green Mountain Horse Association
The Woodstock area is east-central Vermont. It is an area with a rich equestrian tradition – the birthplace of the Morgan Horse breed and the location of the oldest 100-mile competitive trail ride in the nation. There are over 300-miles of mapped, off-road trails winding through this picturesque area of farms, estates, and quintessential Vermont villages. Horses are everywhere...
Read more here:
http://www.equitrekking.com/articles/entry/trail-riding-in-the-green-mountain-state-vermont/