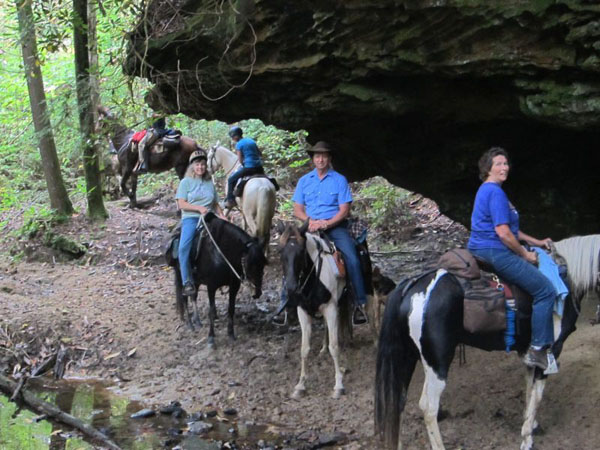 Equitrekking.com - Full Article
October 7, 2015
Wild weather didn't stop Susan St. Amand from having fun at Big South Fork Recreation Area as part of Equitrekking's 50 State Trail Riding Project.
by Susan St. Amand
About Big South Fork Recreation Area
Big South Fork Recreation Area is located on the Northeastern end of Tennessee, straddling the Tennessee and Kentucky state lines, turning into the Daniel Boone National Forest on the Kentucky end. It is located between Oneida, Tennessee via Route 297 and Jamestown, Tennessee via Route 154. The Big South Fork Recreation Area is comprised of 120,000 acres and over 212 miles of horseback riding trails.
Our group entered from the east side of Big South Fork from Oneida. This route entails going through "the Gorge" which involves hairpin turns going up and/or down to enter the Big South Fork Recreation area. Caution--slow speeds and good working truck and trailer brakes are essential to maneuver this area...
Read more here:
http://www.equitrekking.com/articles/entry/trail-riding-at-big-south-fork-recreation-area-in-tennessee/?mc_cid=07911f088b&mc_eid=290b655fe3