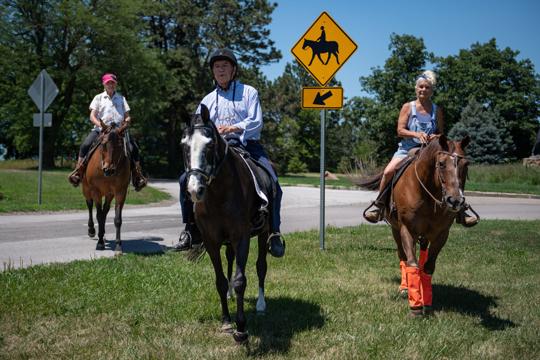 JournalStar.com - Full Article
Evelyn Mejia
Jul 12, 2022
After nearly 35 years of fighting to preserve the horse trail at Pioneers Park, riders are beginning to reap the fruits of their labor.
For the past three decades, horse owners had seen the trail they'd been riding their entire lives shrink from four miles to about a mile and a quarter. Pioneers Park Horse Trails, 7.11
According to Walt Broer of JB Equestrian Academy, the city had never really given them a good reason as to why the trail shrunk.
"The reason they gave us 30 years ago was that it was too much to maintain the trail, but mowing and cleaning doesn't cost much," Broer said.
Over time, riders began to notice the trail depreciating from lack of maintenance.
In some instances, they had been kept off the trail, either by logs blocking access or by park staff.
When the city began receiving substantial funds from Lincoln Public Schools to maintain trails for cross country events, horse owners feared they would soon not have a bridle path at all...
Read more here:
https://journalstar.com/news/local/lincoln-equestrian-community-will-soon-have-expanded-bridle-path-at-pioneers-park/article_f5ece73e-0c49-56d8-8b3f-6d759d3a2d9d.html#tracking-source=home-top-story