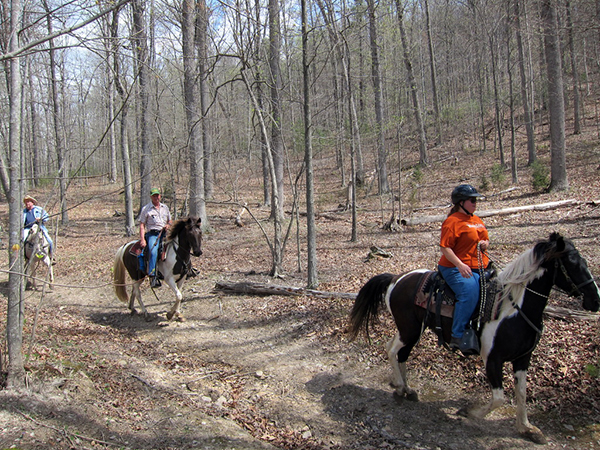 Equitrekking.com - Full Article
April 18, 2017
Riding Down the Rabbit Trail and Memory Lane in Shenandoah County!

by Susan St. Amand
Recently, members of the Shenandoah Trail Riders and Horseman's Association enjoyed a beautiful spring day trail riding in Shenandoah County through a portion of the George Washington National Forest. Splashes of purple painted the forested landscape from Virginia's designated state tree, the Dogwood.
While this day happened to be Easter Sunday, it did not stop the "Easter Bunny" from taking a break and joining the ride down the rabbit trail with a bedecked purple cowgal hat!
The George Washington National Forest covers a large area along the Appalachian Mountains situated along the western part of Virginia and into West Virginia as well as connecting to the Jefferson National Forest on the southern end of the Shenandoah Valley. This mountain range is also found between the Allegheny Mountains to the west and the Blue Ridge Mountains to the east, running along the Interstate 81 corridor. Needless to say, the area has very many beautiful and scenic mountain vistas, and STRHA riders frequent the numerous trails that the GWNF has to offer...
Read more here:
http://www.equitrekking.com/articles/entry/horse-riding-in-the-george-washington-national-forest/?mc_cid=304da4a568&mc_eid=290b655fe3