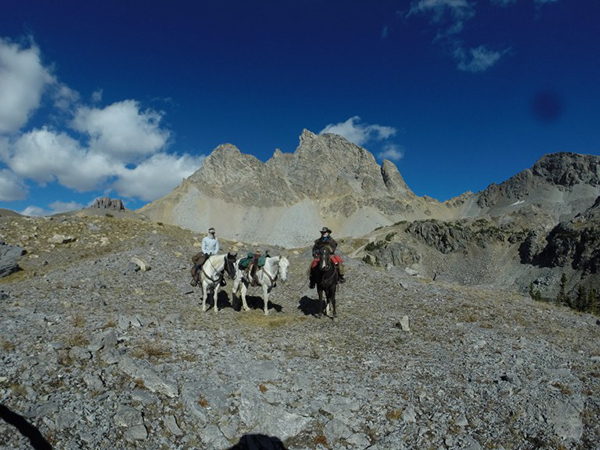 Equitrekking.com - Full Article
April 29, 2016
Ride into the High Country with Amy and Maggie of Wilderness Horseback Journeys blog as they take on the Alaska Basin-Buck Mountain Pass in Wyoming.
We did the Alaska Basin to Buck Mt. Pass in early October last year, because of it's high elevation it is recommended that you don't attempt this trail until July. The day we did this trail, was extremely windy and cold. It often can be when you reach the pass so make sure you pack yourself some extra layers. We always go prepared because we never know how the weather may change. Almost everytime we have gone to Alaska Basin we have experienced weather of some sort. Once you reach Buck Mt. Pass you will be at an elevation of about 10,500 feet.
The route we took was an in and out a 21 mile ride. This is a very impressive ride with views of Battleship Mtn, Buck Mtn, limestone cliffs, giant colorful slabs of granite that were smoothed by the glaciers, and high moutain lakes. All of this makes this an amazing pick for our fourth favorite ride of the 2015 season. At the end of this post you will find a map. We have some amazing photos of this ride that really capture the beauty of Buck Mtn and the beautiful granite slabs that you find as you enter into Alaska Basin. Remember all these photos are taken with Maggie's "Tough" camera. We have ridden Alaska Basin several times, but this was our first time visiting Buck Mtn Pass...
Read more here:
http://www.equitrekking.com/articles/entry/riding-alaskas-basin-buck-mountain-pass/?mc_cid=a7b91c0d28&mc_eid=290b655fe3