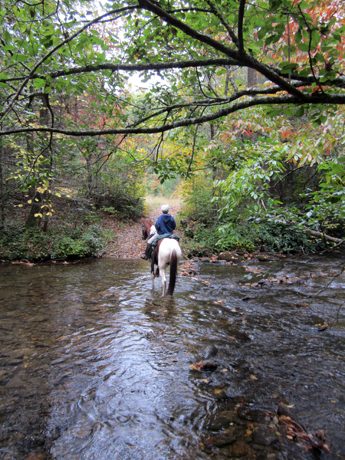 Equitrekking.com - Full Article
September 29, 2013
Deirdre Perot Lightsey shares great horse trails in the Pisgah Ranger District in North Carolina as part of Equitrekking's 50 State Trail Riding Project.
Pisgah Ranger District
, near Brevard and Mills River, North Carolina is an amazingly gorgeous part of the state. Within the Pisgah National Forest, over 500,000 acres is made up of three districts, Pisgah Ranger, Appalachian and Grandfather. Pisgah Ranger District is known as the "land of waterfalls" and the views around each bend, especially from between the ears of my horse are more lovely than the next.
I have been lucky enough to have lived close to this place for over twenty years now, and been associated with a group of dedicated folks who've recently formed a
"Back Country Horsemen" chapter
(of Pisgah)
. Together, we ride, maintain and enjoy the miles of trails in the area. We have a work weekend each month but also get out as often as possible to cut trees off of the trails, clip back branches and just generally enjoy the out of doors, our horses and great fellowship...
Read more here:
http://www.equitrekking.com/articles/entry/horseback-riding-western-north-carolina-pisgah-ranger-district/